We have working relationships with many experts in niche and complex areas and are confident that we can find a solution to most problems.
Dr Jerry Thomas CB DSO – Special Projects Director
Jerry Thomas retired from the Royal Marines in May 2012 following a career that spanned nearly 37 years. He commanded operationally at all levels from rifle troop to 3 Commando Brigade and Commander Task Force Helmand. He also spent 10 years working in military intelligence at various levels including his last appointment as Assistant Chief of Defence Staff (Intelligence Capability), responsible for Defence's specialist intelligence collection and analysis activities. After joining the retired list in 2012, Jerry continued to represent the Corps and chair its principal charity until late 2015. In parallel, he advised and presented on intelligence, security and leadership for several commercial and academic organisations. He also gained a PhD in Strategy and Security from the University of Exeter and a MLitt in Terrorism Studies from the University of St Andrews. He is a member of Chatham House. Jerry acts as our Special Projects Director where he brings his significant experience to bear when needed. Contact Jerry directly: jthomas@proeliumlaw.com 
Martin Tobin
Martin left the British military in 2014 following a career spanning 28 years, 22 of which were with UKSF. Starting in the ranks and being awarded a rare UKSF commission, Martin brings a wealth of knowledge of global high risk and complex environments over the past 3 decades. More recently he has been a senior advisor to one of the world's largest nuclear energy companies. Martin is ideally placed to advise all manner of companies on their business resilience and risk, as he has a proven track record both commercially and in government in planning and change management. Contact Martin through our main office number: 020 3875 7422.

Rupert Pulvertaft OBE
Rupert Pulvertaft left the Royal Marines after 29 years' service in 2015 during which he accrued considerable international operational, planning and diplomatic experience in both the Middle East and Europe.  This included senior level strategic engagement at head of state and ministerial level, the whole underpinned by fluent French and working Arabic. Since leaving the Royal Marines his portfolio has expanded to include the delivery of internationally focussed projects for a number of clients in the areas of Security Needs Analysis, Rule of Law and CVE. Contact Rupert directly: rpulvertaft@proeliumlaw.com
Dr. Wadhah Al Safi 
Dr. Al Safi is our Iraq-based legal consultant. He is a qualified lawyer in Iraq and an experienced legal practitioner with a particular specialty in commercial cases and matters relating to foreign companies. He provides expertise and is a legal advisor to several international companies operating and registered in Iraq. Additionally, Dr. Al Safi is experienced in the field of "Trade Marks" being licensed by the Iraq Supreme Judicial Council and by the Companies Registration Department – Ministry of Trade, as a Company Registration Agent in Iraq. As a geologist, he also has experience in the area of oil marketing and maintains relations with the oil sector in Iraq. His experience in oil related matters combined with his legal experience as a lawyer ideally places him to advice many clients wishing to do business in Iraq. Besides his native Arabic language, Dr. Al Safi is also a fluent English speaker. (Click here for an Arabic version.)  Contact Dr Al Safi through our main office number: 020 3875 7422 or directly: walsafi@proeliumlaw.com
David Frend
David was called to the Bar in 1994 and practiced predominately as a criminal defence advocate before commissioning into the Army Legal Services in 1997. During his military career he undertook a multitude of roles within the three core Army Legal Services' areas of work: prosecution advocacy before the Court Martial and the Court Martial Appeal Court; legal advice to the chain of command on internal discipline, administrative and employment matters; and legal advice on the lawfulness and conduct of military operations, including becoming the first permanent military legal advisor to the United Kingdom Special Forces.  Having completed 18 years' military service, David converted his commission from the regular Army to the reserve in October 2014 and took up a position of Specialist Prosecutor with the Crown Prosecution Service, Proceeds of Crime, before returning to the independent Bar in March 2016 as a self-employed barrister.  Most recently, David has been commissioned as a Short Term Expert to the European Rule of Law Project in Montenegro providing advice and guidance in respect to prosecuting offences of money laundering. Contact David directly: dfrend@proeliumlaw.com
Kelly Brocklehurst
A former Royal Marine and UKSF officer, Kelly re-qualified as a barrister on leaving the armed forces and has subsequently developed a wealth of experience and understanding in the mitigation and management of both legal and operational risk for government agencies and global commercial organisations.  Having worked in the private sector as in-house counsel and also in the criminal, regulatory, and international law jurisdictions, he is ideally placed to help clients devise the holistic and commercially-focussed solutions necessary to build resilience and manage reputation in high-risk environments. Contact Kelly directly: kbrocklehurst@proeliumlaw.com
Barry ET Harris MBE
Barry is our technical consultant in the fields of communications and technology. He combines significant specialist Electro Optical (EO) surveillance operational experience with a 23-year military career including specialist technical training in communications systems, surveillance technology, and electronic warfare. He is recognised as an expert in EO surveillance and border security operations. Barry is a member of RUSI, SPIE the Chartered Institute of Marketing (CIM) and has been awarded a Mention in Dispatches (MiD), Queens Commendation for Valuable Service (QCVS), and Most Excellent Order of the British Empire (MBE) for his achievements. He provides clients the wisdom gained from extensive commercial engineering and management experience in his specialities gained in complex environments and high-risk jurisdictions worldwide. Contact Barry directly: barryetharris@proeliumlaw.com
Contact us to discuss your requirements and how we can help
Read our latest news & articles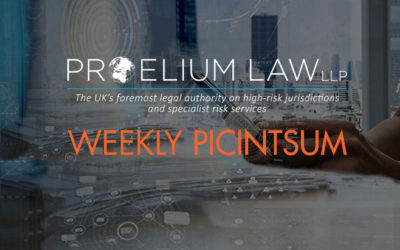 Proelium Law is proud to launch a series of weekly picture intelligence summaries (PICINTSUMS) for the use of our clients, colleagues and contacts.  Focusing on Iraq/Syria, Libya and Afghanistan/Pakistan these reports will be updated weekly on a Wednesday.
read more