A sector leading offering from Proelium Law LLP
Are you thinking about setting up a business?
Does your organisation have the correct legal infrastructure for success?
Are you thinking of setting up in the security or international development industries?
Have you assessed your legal risk as part of your overall risk assessment – do you know what legal risk you might be carrying?
The Proelium Law Legal Risk Map® process looks at your business structures and activities from a legal risk perspective, helping you to understand and mitigate any vulnerabilities you may have in this area. The Legal Risk Map® is free, bespoke to each client and is confidential.
If you want to use this free capability or just understand more, use the buttons below and complete the online questionnaire which notifies us when you have completed it. Or, if you would rather take your time, you can download the questionnaire, fill it in and return it to us.  We will look at your answers and send you the results – for free. We also realise you may just want to see what it's all about, so you can also download the questionnaire to read at your leisure.
Our legal risk mapping is a basic review of your organisation's legal health. It looks at how well your legal structure covers you and should be considered a central part of your risk analysis and risk management. The legal risk map considers the following themes: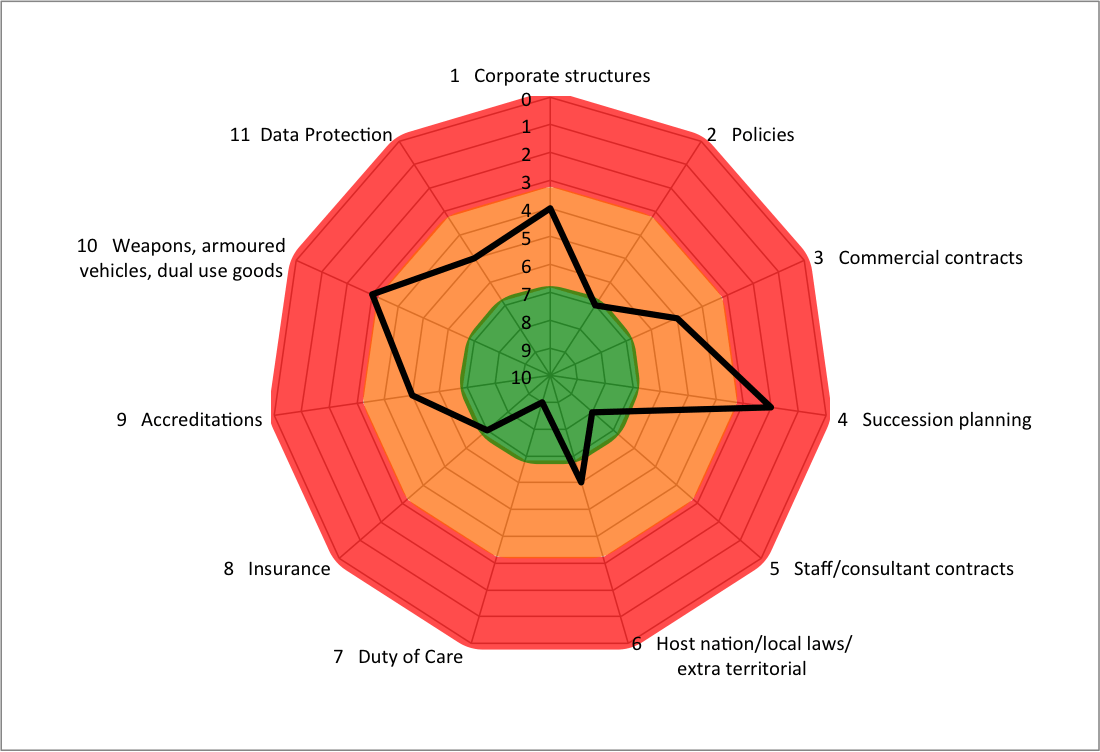 Theme 1 – Corporate structures and responsibilities, including memorandum of association, articles of association and shareholders agreements or if your organisation is a registered charity or NGO.
Theme 2 – Policies, including (for instance): day-to-day functioning of your company; anti-money laundering; anti bribery and corruption; third party suppliers; travel and duty of care.
Theme 3 – Commercial contracts – with third party suppliers and clients.
Theme 4 – Business continuity and succession planning.
Theme 5 – Staff and consultant contracts, their rights to work and visas.
Theme 6 – Host nation and local laws for overseas projects, extra-territorial laws and sanctions, immigration and tax and work permits.
Theme 7 – Duty of care. Essential to limit your exposure to negligence claims.
Theme 8 – Insurance and whether it is adequate or not.
Theme 9 – Accreditations, whether you would be ready and their usefulness.
Theme 10 – Use of weapons and armoured vehicles, dual-use goods (if applicable) and private security companies.
Theme 11 – Data Protection and Cyber. Data protection, to conform to the Data Protection Act 2018 (known as GDPR); privacy policies; protecting your company from the risk of cyber attacks; use of computer hardware and software.
Theme 12 – Intellectual Property. Understand what Intellectual Property you own, or might own and not realise, is important for the value of your business.
Take the questionnaire – complete the simple to follow online form below which takes approximately 20 to 30 minutes. If you don't have time now, you can also download the Legal Risk Questionnaire to complete and review at your leisure later.
Contact us to discuss the service –  To learn more about the Legal Risk Map® service, and how it can put your company onto firm legal foundations for continued success, please contact us on +44 20 3875 7422 or email law@proeliumlaw.com. We will guide you through the process, it won't take longer than an hour – plus it's free!
Once you have completed the questionnaire we will organise a free, no-obligation one hour slot in the diary for a conversation to discuss your results. We will then send you your legal risk map.
Legal Risk Map® Questionnaire
Contact us to discuss your requirements and how we can help