PROELIUM LAW WEEKLY PICINTSUM – 10/01/2018
The Proelium Law weekly picture intelligence summaries (PICINTSUMS) for the use of our clients, colleagues and contacts are now released.  Focusing on Iraq/Syria, Libya and Afghanistan/Pakistan these reports will be updated weekly on a Wednesday.
'The US will provide a total of $150million in 2018, providing $265.3million since 2015. Increasingly attention is turning to restructuring of both Iraq and Syria as the threat from ISIS nears an irreducible minimum. Restructuring will bring economic benefit to the nations surrounding Iraq and Syria and relieve pressure caused by millions of refugees and internally displaced persons.'
If you'd like further information, or to discuss working with us, you can get in touch via our Contact Us page
Read our latest news & articles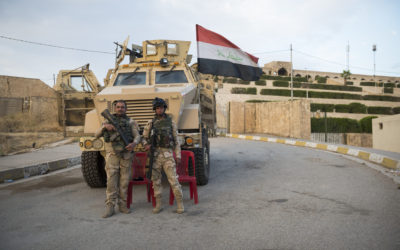 With the liberation of Rawa on Friday November 17th, ISIS lost its last town in Iraq and so it's entire occupied territory within the country. While ISIS almost certainly still operates in unpopulated land in Anbar, northern Diyala and Niveneh governorates, this victory marks the defeat of ISIS as a territorial based insurgent organisation in the country.
read more