Cambodian opposition leader arrest bodes poorly for 2018 election
Marc Simms is an occasional blogger for Proelium Law LLP. Marc holds a MLitt in Terrorism Studies and a Masters in International Relations, both from St Andrews. His particular interests are in emerging international security issues, unconventional warfare and terrorism.
Kem Sokha, the leader of the opposition Cambodia National Rescue Party, was arrested on Sunday September 3rd and has been charged with treason.  Specifically, the charges are that he has been conspiring with the United States to overthrow the government of Cambodia.
Cambodia is due to hold elections in 2018 and the arrest is widely seen as politically motivated, and part of a broader pattern of Prime Minister Hun Sen's authoritarian approach and desire to remain in power.
A strongman in power
Cambodia has been de facto ruled by the Cambodian People's Party since 1979, when the Vietnamese invasion toppled the Khmer Rouge regime and established the People's Republic of Kampuchea in its place.  Hun Sen, a former Khmer Rouge commander who defected to Vietnam, had originally served the new regime as Deputy Prime Minister and Foreign Minister, becoming Prime Minister after the death of Chan Sy in 1984.
Cambodia operated as a one-party state until 1993 (though in an effective state of civil war with the Khmer Rouge, propped up by the Vietnamese military) when, in its first contested parliamentary elections since 1958, the Cambodian People's Party lost to the royalist FUNCINPEC.  However, Hun Sen refused to step down, instead staying on as "co-Prime Minister" with Prince Norodom Ranariddh, the FUNCINPEC leader.  This arrangement lasted until the 1997 "Cambodian Coup", where military forces loyal to Hun Sen ousted the Prince and those forces loyal to him.  Hun Sen's seizure of power was confirmed in a questionable election held the next year, where he resumed the post of Prime Minister.
In 2013, the opposition CNRP disputed the election, claiming there had been voting irregularities and fraud, claims which were lent weight by the EU and US expressing concern about the vote.  The CNRP chose to boycott the opening of Parliament and instead organised protests in Phnom Penh, leading to civil unrest and violence in the capital, along with arrests of CNRP MPs, including Mu Socha, one of the protest leaders.
A new political crisis in the making
Hun Sen and the Cambodian leadership do not appear to be prepared to relinquish their grip on power, despite the aftermath of the previous election.  If anything, they appear to be doubling down on heavy-handed repression, stripping the previous opposition leader Sam Rainsy of his parliamentary seat and issuing a warrant for his arrest on charges of criminal defamation, after Rainsy accused the Cambodian People's Party of corruption and Hun Sen of involvement in the murder of a union leader.
The Cambodian Daily newspaper has also been forced to close, ostensibly over a tax bill, but more likely as part of a general trend by Hun Sen's government to crack down on independent media, a campaign which has also seen the Voice of America and Radio Free Asia removed from Cambodian airwaves.  While this measure may have some effect on the organising capabilities of any potential opposition in the countryside, it will have less effect in urban areas where the internet, which is not systematically censored by the government, is more readily available.  It is highly likely therefore, that the fall out from this election will eclipse that of the 2013-14 political unrest.
If you'd like further information, or to discuss working with us, you can get in touch via our Contact Us page
Read our latest news & articles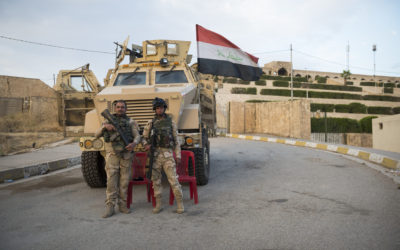 With the liberation of Rawa on Friday November 17th, ISIS lost its last town in Iraq and so it's entire occupied territory within the country. While ISIS almost certainly still operates in unpopulated land in Anbar, northern Diyala and Niveneh governorates, this victory marks the defeat of ISIS as a territorial based insurgent organisation in the country.
read more